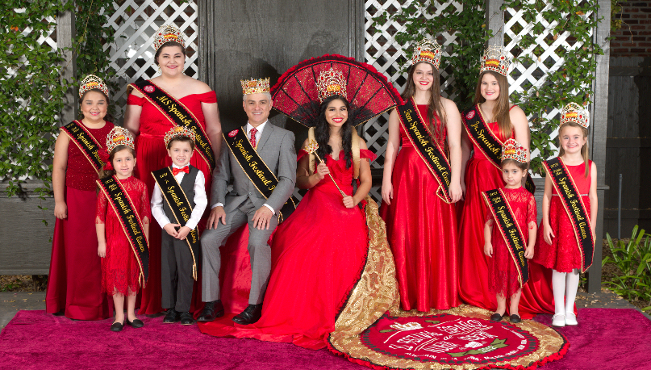 7th Annual
Paella/Tapas/Jambalaya
Cook-Off
Saturday, April 27th, 2019
Bouligny Plaza * Downtown New Iberia, LA
NEW CATEGORY THIS YEAR!
Spanish Desserts
Serving 11:00am ~ Judging at 11:00am ~ Awards at 3:30pm
"Paella"
Famous Rice Dish from Spain
2019 Paella, Tapas, Jambalaya Cook-off Registration Forms
Set-up available Friday afternoon, & Sat. 6-8am (Night Security Provide)
Must use Recipe for 90 or more large servings. On Site Cooking required. First, Second, Third Place Awarded. Vendors for profit will receive 50% of ticket sales payable as arranged. Vendors will have assigned space.
Festival Theme: "Spain Alive" Celebrating 240th Anniversay of Nueva Iberia
Award will be given for Best Decorated theme booth.
Please Contact:
James Migues (337)789-6262, jmigues@pas-pws.com
Brad Pisani (337)967-4464, bpisani@pas-pws.com
Mail check OR Money Order Payable to:
(LAENI) La Asociacion Espanol de Nueva Iberia
PO. Box 12963
New Iberia, LA 70562
*Participants must provide All Cooking Equipment including: Fire Extinguisher, Serving Utensils, Gloves, Cleaning supplies, tables, chairs, tent (anchored) Contact FREMINS (David) directly for tent rental, installation, and dismantling if needed.

2016 Paella and Tapas Cook-Off Registration Forms
2018 Food Truck Vendor
Food Truck parking will be in a designated area chosen by the El Festival Espan?ol Organizers.
Food License must be posted and visible.

Payment shall be made out to La Asociacio?n Espan?ol de Nueva Iberia (LAENI) in the amount of $250.00 by the deadline of of May 1, 2018.

After Deadline cost is $300.00.

Mail check or money order to: LAENI; Post Office Box 12963; New Iberia, LA 70562.

There will be NO refunds as Festival will be held rain or shine.
Food Service Truck agrees to hold El Festival Espan?ol Organizers, La Asociacio?n Espan?ol de Nueva Iberia, and the City of New Iberia harmless from all claims, losses and expenses.
LAENI Board Members
Brinkley Segura Lopez, President
Ron Migues, Vice President
Darren Romero, Treasurer
Dustin Johnson, Secretary
Michelle Blanchard
Tessie Segura Dore
Donna Gary
Lauren Greig
Wayne Hollier
Heather Johnson
Brittany LeBlanc
Korie LeBlanc
Chantel Peltier
Barry Segura
Ricky Segura
Tim Segura
Ashley Verret
James Viator
Honorable Board Member, Sydni LeBlanc
www.alhaurindelatorre.es
Crochet Ceiling down Church Alley Featured on:
Click here to read the article from Spain!
Spanish Festival 2016
featured on
AAA's Southern Traveler Magazine