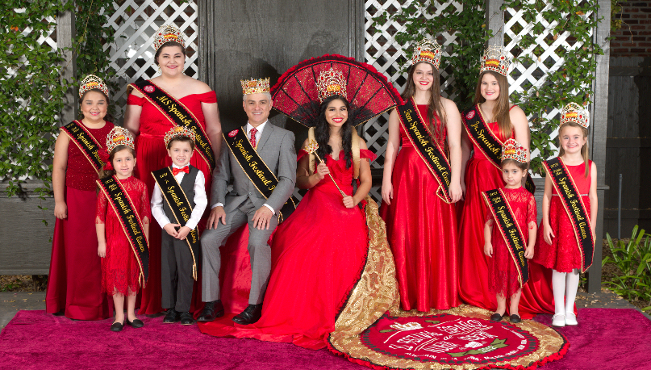 Festival Donations & Sponsorship
*Proceeds dedicated to New Iberia & Spain Student Exchange Program and Activities & More...
El Festival Español's Monetary & In-Kind Sponsorship Form
Special Thanks to our 2018 Sponsors:
Gold Level Sponsor
City of New Iberia
Segura Farms
The Daily Iberian
Silver Level Sponsor
Acadiana Lifestyles
Bayou Teche Museum
Beau Soleil Catering (James and Kelly Holleman)
New Iberia Main Street Program
Iberia Performing Arts League
Performance Winch Services
Bronze Level Sponsor
Darren Romero Photography
Donald J. Voorhies
Fabian's for Flowers
Iberia Parish Convention & Visitors' Bureau
Judge (Retired) and Mrs. Robert L. Segura
LaQuinta Inn and Suites
Louisiana Medical Supply, Inc. (Tom and Vicki Holleman)
Sir Speedy
Soileau's Pharmacy (Andy and Donna Soileau)
St. Peter's Catholic Church
Wilson and Iris Viator



Festival Contributing Sponsors
Acadiana Women Leaders
Advertec Advertising Technology
Allain's Jewelry Store
Allen and Lynette Gosnell
Austin and Carol Whipp
Barbara and Carolyn Viator
Berry Queens
Blake Miguez
Bon Creole Seafood
Brad Pisani
Buenos Amigos
Canary Islanders Heritage Society (Joan Aleman)
Clementine's on Main (Kent and Jennifer Dold & Mike Parich, Jr.)
Cub Scout Pack 463
Donald and Catherine Segura
Don Hollier
Ebrar and Jean Reaux
Fred and Phyllis Romero
Hilda D. Curry
Iberia Aggregates
Iberia Medical Center
Iberia Veterans Honor Guard
Ines Suit and NISH Spanish Club
J. J. Bernis and Four Winds
James and Tammy Migues
Larry and Jane Braud
Johnny and Connie Bourque
Jim and Laura Viator
Knights of Columbus Council 1208
Landry's Cajun Seafood & Steakhouse
Lee Kleinpeter – KANE 1240
Little River Inn
Los Isleños Cultural & Heritage Society
Matt , Brinkley and Malia Lopez
Mayor and Mrs. Freddie DeCourt
Mike and Wendy Parich
Nancy Armentor Lees
Pamplona's Tapas Bar
Parties Plus Bridals
Quail Tools
Rayward and Dolores Segura
Road I.D.
Romero Fishing Tools
Roux Brothers
Sandy's Place, LLC
Sea Shell, Inc.
Segura Matadors
Segura Rapid Press
Stein's Landscaping, LLC
The Gym
Theriot's Grocery Store
Tommy and Mary Carol LeBlanc
Tracy's Auto Specialists
Zob Munnerlyn
Friends of the Festival
Anytime Fitness Center
Asociación Cultural Latino Acadiana
Barry Guillotte
Bernard Sandoz
Billy and Dana Patin
Brian Campbell, Ph. D.
Carol Smith
Catherine V. Indest
Charlie Segura
David and Claire Daly
Dr. and Mrs. Edmond Lamperez
Dr. and Mrs. Jose Mata
Dr. Andy Reaux
Dustin Burnaman
Dynamic Health Club
Gladys Chapman and Highland Baptist Christian School
Helen Segura
Iberia Rehabilitation Hospital
Iberia Sports and Rehab
James Stein
Judge and Mrs. John Conery
Katelyn Gulotta
Lane Blanchard Farms, L.L.C.
Lipari's Sporting Goods
Marcia B. Patout
M & S Janitorial and Floor Service, Inc ( Kim and Jack Martin)
Monk Segura
Preston Guillotte
Rickey J. Huval
Rita F. Girouard
Stevie Stein
Teche Lumber Company
3-S Farms
Wade and Lacy Romero Falcon
Wanda Milliman
LAENI Board Members
Brinkley Segura Lopez, President
Ron Migues, Vice President
Darren Romero, Treasurer
Dustin Johnson, Secretary
Michelle Blanchard
Tessie Segura Dore
Donna Gary
Lauren Greig
Wayne Hollier
Heather Johnson
Brittany LeBlanc
Korie LeBlanc
Chantel Peltier
Barry Segura
Ricky Segura
Tim Segura
Ashley Verret
James Viator
Honorable Board Member, Sydni LeBlanc
www.alhaurindelatorre.es
Crochet Ceiling down Church Alley Featured on:
Click here to read the article from Spain!
Spanish Festival 2016
featured on
AAA's Southern Traveler Magazine